Reviewed by Laura Dzubay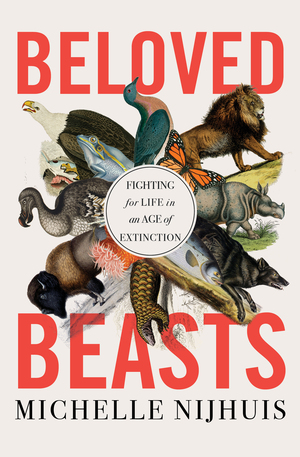 In a late chapter in Beloved Beasts: Fighting for Life in an Age of Extinction, Michelle Nijhuis shares a quote from legal scholar Holly Doremus: "Nature advocates have obtained much of what they have asked for, but they have not asked for what they really want." The climate crisis has recently begun taking its long overdue place in the spotlight of international concern, and in that context, Doremus's observation highlights something crucial: that we only have so much time to choose the future we want.
Unfortunately (but kind of inevitably), the idea of "what they really want," as well as the category of "nature advocates" and who comprises it, are thorny questions with many sometimes contradictory answers. Nijhuis sets out to untangle some of this web in Beloved Beasts, delving into the interlocking histories of some of the major figures in conservation from the past couple of centuries.
These chapters outline the origins of (and differences between) conservation and environmentalism, the developments of ecology and conservation biology as fields of study, and the individuals involved in these developments—for better or for worse (or both). Nijhuis also explores the toxicity linked with parts of these movements from their inceptions, and the ways in which conservationism has frequently been predicated on, and/or made use of, racism, eugenics, a conquest-driven sense of national character, and colonialist harm against indigenous people, whose own conservation practices are generally much longer established and better informed.
Nijhuis's writing traverses space and time easily: she brings the reader to the windy peak of Pennsylvania's Hawk Mountain Sanctuary, where environmental advocate Rosalie Edge established the home of the most complete record of raptor migration in the world; a shack on the floodplain of the Wisconsin River, where writer and conservationist Aldo Leopold spent hours making observations and planting trees with his family; and a sunny day at the San Diego Zoo, where Nijhuis visited Edward, the first white rhino born via artificial insemination in North America. Her descriptions of these places do more than the work of scene-setting; they keep the individual environments in sharp focus and bring us closer to the connections people like Edge and Leopold felt to them.
Nijhuis illustrates that the fight against climate catastrophe has been urgent for many generations now, in many parts of the world, and that if we are to make meaningful change, we must see respect for the environment as an enduring concern of the human experience, not just an alarm that sounds during times of crisis. She cites the advice of Willard Van Name: "The time to protect a species is when it is still common."
For those not sure where to turn next, Nijhuis's book seems to suggest looking to the past. The histories Nijhuis recounts of species like the bison, the peregrine falcon, the bluehead chub, and the northern white rhino demonstrate that the story of a single species is never as simple as, It existed and then it went extinct. The roads for many species are disjointed paths, marked by a constant push-pull between danger and, if not concrete hope, at least concrete possibility.
The road ahead for the fight for life is similarly marked; it isn't a matter of outright success or failure, but rather a complex journey of interconnected parts, which, according to Nijhuis, will require us all to reevaluate our relationships with the land. The environment has never just been something that surrounds us; it has always been something to which we are accountable. In the face of an uncertain future, this is the knowledge we have to latch onto if we are to learn how to shape that common future into the one we want.
W. W. Norton & Company, March 9, 2021, $27.95 hardback (352p), ISBN: 9781324001683.
---
Laura Dzubay is an MFA candidate in fiction at Indiana University. Her work has previously appeared in Electric Literature, Blue Earth Review, Cimarron Review, and elsewhere, and you can find her on Twitter @lauradzu. In addition to writing, she loves good food, hiking, and haunted places.