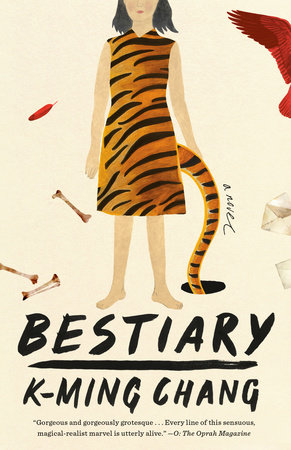 Indiana Review is accepting submissions for the fiction prize until March 31st. Read what this year's prize judge, K-Ming Chang, author of the novel Bestiary and the forthcoming story collection Gods of Want, has to say about myth, queerness in her work, what excites her in reading fiction, and more in this interview with Fiction Editor, Sophie Stein.
And then don't forget to send us your work!
Your fiction revolves organically around image and myth. How are those things intertwined with plot and character for you? How have they redefined what it means for you to tell a story?

I love this question so much! I'm always thinking of ways to tell a story that aren't necessarily driven by conventional plot or purely forward movement: rather, I'm interested in the accumulation of imagery, using juxtaposition, and writing toward a sense of surprise, even if that means circling the same images again and again. Myth to me is about possibility and the juxtaposition of the sacred and the profane, as well as mixing together irreverence and reverence. Some of my favorite myths involve elements of the grotesque and crass, while at the same time containing the divine, and I think that the marrying of those elements influences how I write my characters and their relationships to their bodies and their surroundings. I also think that it's redefined how I think about "action" in a story – I'm deeply interested in the imaginative life of the characters as much as in what they physically are doing.

Can you discuss the role queerness plays in your work? What are some hidden ways queerness operates in your prose?

I love this question too! I think that similar to myth, queerness to me is about possibility and speculation. It's not something fixed to me, and there is so much queer literature that has shown me the possibilities of embodied writing, like Dorothy Allison's Trash and Qiu Miaojin's Notes of a Crocodile. I'm not sure if it's necessarily hidden, but one thing that I'm interested in is expanding the definition of the erotic, beyond heteronormative definitions of what sex is. I'm interested in finding new language for intimacy, hunger, desire, seeking to find pleasure and horror and wonder in things that may be traditionally ignored or seen as illegible.

What challenges you most about writing fiction? What do you find most rewarding? How does your fiction-writing benefit from your poetry practice, and vice versa?

Definitely structure, though really it's an endless list of things! I'm always trying to find a shape for my fiction, because I tend to write first drafts without any paragraph breaks, so I have these massive, undifferentiated blocks of text. I always struggle with understanding what should be included in the story or what needs to find its own life elsewhere. I also enjoy the drafting process but really struggle to revise and revisit what I've written: I have an urge to immediately shove it away and never look at it again and instead move on to the next thing. And while following the language can lead me to wonderful and fascinating places in the writing, the language can also lead me astray, so a lot of times I'll write sentences that sound interesting but ultimately mean nothing. In terms of what I find most rewarding, the drafting process is always so full of wonder and surprise and discovery. I also love that feeling of surprising myself with something unexpected that emerges from the story and realizing that this is why I'm writing. My poetry practice has taught me to follow the language, and to be playful on the page. Rather than thinking of every word as high stakes, I try to see language as something to explore and play with.

When reading fiction, what excites you most and why?

I love reading fiction in translation, and it's the majority of what I read. I find that it opens up all the possibilities of story structure and shows me what can be done, and I love to be surprised, similar to why I write. It's always exciting to not know where a story is leading me, and to be fully immersed in its language and logic. It inspires me to take more risks and to follow my own instincts.

Do you have any upcoming projects you're excited about?
I'm currently editing a novel titled ORGAN MEATS with my amazing editor, Nicole Counts. It's definitely a book that's surprised me, and every time I revisit a draft, it feels like I'm encountering a completely different story. It's shapeshifting and amorphous, and there's something about it that remains really mysterious to me, which is part of why I love working on it.
---
K-Ming Chang is a Kundiman fellow, a Lambda Literary Award finalist, and a National Book Foundation 5 Under 35 honoree. She is the author of the New York Times Book Review Editors' Choice novel BESTIARY (One World/Random House, 2020), which was longlisted for the Center for Fiction First Novel Prize and the PEN/Faulkner Award. In 2021, her chapbook BONE HOUSE was published by Bull City Press. Her short story collection, GODS OF WANT, is forthcoming from One World, as well as a novel titled ORGAN MEATS.